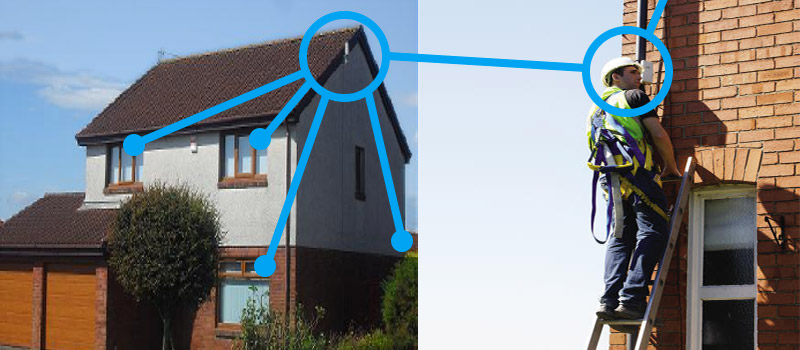 Ineedbroadband can provide you with a fast and reliable service that we're sure you'll be delighted with. We are able to provide our customers with wireless broadband regardless of many logistical and exchange -elated problems.
Through our wireless technology, we are able to reach out to customers in even the most remote locations with up to 20mb speeds. To view our packages click here.
At present we can provide our services across 18000 sq miles of Nottinghamshire, Leicestershire and North Northamptonshire with our unique total telecom solution. We have residential broadband and business networks running throughout Nottinghamshire, Leicestershire and North Northamptonshire and who knows, you may even have one of ours close by and not even realise!
You may not have heard of our company before or be aware of the technology that we use. Founded in 2004, Ineedbroadband have wifi systems installed all over the UK and Europe
How can you make it work and others can't?
The difference between ourselves and our competitors is that we offer fixed point to point airborne communications that are not dependent upon landlines or any satellites. These two alternatives can be more costly and significantly less effective, especially in remote areas.
We install a Ineedbroadband receiver on your home which directly communicates with a nearby line-of-sight transmitter that is connected to our fibre optical network feeding your area.
We offer very low contention ratios and all our signals travel at the speed of light to your home (Wireless Fibre), making our service very fast compared to our competitors.
Installation
Our dedicated engineers are fully qualified to complete your installation swiftly, with minimal fuss and no disturbance to your interior decor or exterior structure.
The Ineedbroadband receiver is very compact and discreet. The device is mounted to a suitable high point, giving you access to the service you require via a line of sight to our transmitter or repeater.
Our engineer will hard wire a network cable into your home which will plug directly into your router, laptop or PC. At this point the service will then go live and you will be receiving your allocated download speed.
Your service is optimised within the first 24 hours of service. After the engineer has installed the Ethernet cable from the receiver into your home, our broadband installation job is done.
If you are having an additional VoIP service installed we will then connect the analogue adapter to your existing handsets and then into your router accordingly.
Whilst we do sell high spec wireless routers from £40.00 pounds, we are not responsible for the set up of any internal wireless network system during the installation of the broadband service. If you are not technically minded we do provide additional chargeable IT services to meet your requirements fully.
As with any internet service provider our sole job is to get the broadband live to an access point in your home.
Our coverage
Find out if your area is covered
If you work from home, we also offer bespoke broadband packages for home offices